About Us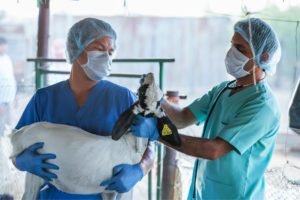 Al Rawdah Veterinary Clinic opened its doors in 1999. We are the oldest Small Animal Pet Veterinary clinic in Al Ain, located in city center opposite to the main Palace.
Our clinic offers a very wide range of Veterinary services for Pets, Exotic Animals and Falcons. We have state of the art technology and equipment that enables us to give to your pet the highest healthcare standards. We are focused on Cats and Dogs with a special section for Birds (parrots, pigeons, canaries, exotic birds), Reptiles (lizards, iguanas, tortoises, turtles) and small mammals (such as rabbits, guinea pigs, chinchillas, rats and hamsters)
Our Mission
High Quality Veterinary Services
Al Rawdah Veterinary Clinic is born to provide high quality veterinary service focusing on welfare and performance of animals and owner's satisfaction.
Caring and Support
We aim to contribute to the growth of animal healthcare in the UAE and supporting the UAE people in getting the best service and education.
Call Us Today
To request an appointment!
Our Services
We strive to provide complete care for our patients.
Meet Our Team
Our healthcare team is committed to providing personal attention to the unique concerns of each individual pet owner.